Styling a midi wrap dress can be a fun and versatile fashion choice. Here are some tips on how to style a midi wrap dress:
Choosing the Right Midi Wrap Dress
When it comes to choosing the right midi wrap dress, one of the first things to consider is your body type. Just like any other dress style, certain designs and cuts are more flattering on different body shapes. For example, if you have an hourglass figure, a wrap dress that cinches at the waist will highlight your curves beautifully. On the other hand, if you have a more straight or rectangular body type, opting for a wrap dress with ruffles or a fuller skirt can create the illusion of curves.
Apart from the fit, the fabric of the midi wrap dress also plays a crucial role in its overall appearance. You should choose a fabric that not only complements your body type but also suits the occasion. For instance, a lightweight and flowy fabric like chiffon or silk is perfect for a summer wedding or a beach vacation, while a more structured fabric like cotton or linen works well for a casual day out.
Lastly, the color of your midi wrap dress can make a huge difference in how it looks on you. It's essential to choose a color that flatters your skin tone and enhances your natural features. If you have a warm undertone, earthy tones like olive, rust, or mustard can look stunning on you. Conversely, if you have a cool undertone, shades like navy, emerald green, or pastels can be more flattering. Ultimately, the goal is to select a color that makes you feel confident and beautiful.
Accessorizing a Midi Wrap Dress
Accessorizing a midi wrap dress can elevate your outfit and add a personal touch to your style. One of the most effective ways to accessorize a wrap dress is by adding a belt or a waist cincher. This not only helps define your waist but also creates a more polished and put-together look. If your wrap dress comes with a self-tie belt, you can experiment with different ways of tying it to achieve various styles.
Statement jewelry is another excellent way to accessorize a midi wrap dress. Whether it's a chunky necklace, oversized earrings, or a stack of bangles, bold accessories can take your outfit to the next level. Just remember to strike a balance and not overwhelm the dress. If your dress has a vibrant and busy print, opt for more delicate or minimalist jewelry to let the dress be the focal point. Conversely, if your dress is a solid color, feel free to go all out with bold and eye-catching accessories.
When it comes to choosing the right shoes, it largely depends on the occasion and the overall look you want to achieve. For a casual and relaxed vibe, you can pair your midi wrap dress with comfortable flats or sandals. If you're going for a more sophisticated or dressy look, heels or wedges can be a great option. Opt for neutral tones like black, nude, or metallics to keep the focus on the dress. However, if you want to make a bold statement, you can also experiment with colorful or patterned shoes to add some personality to your outfit.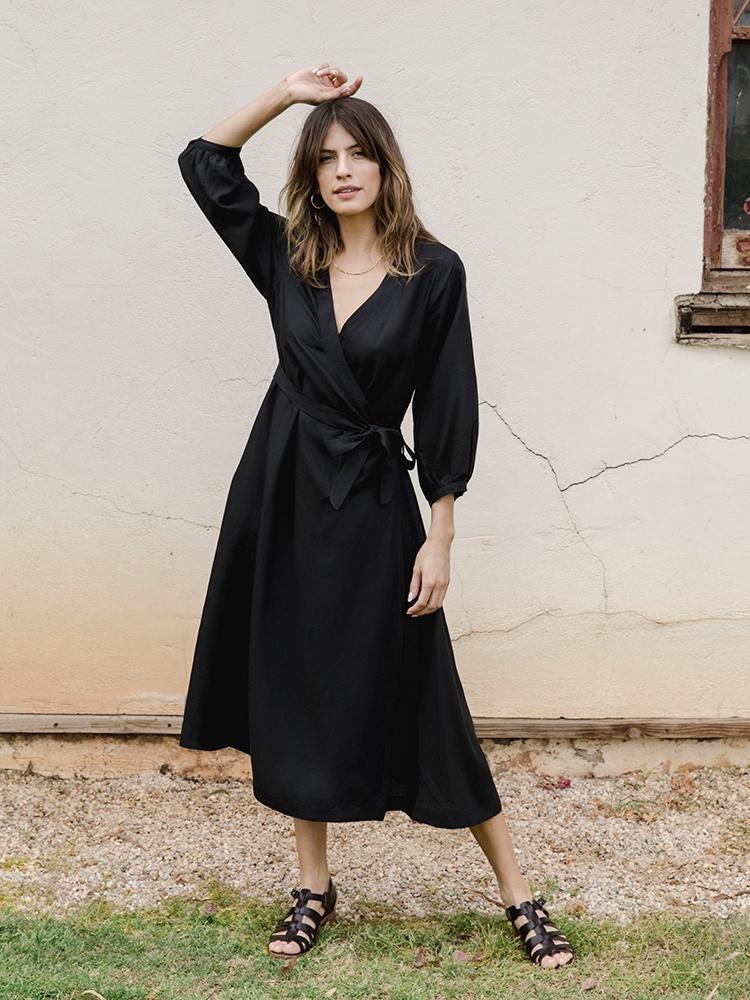 This image is property of cdn05.zipify.com.
Layering with a Midi Wrap Dress
Layering can not only add warmth and versatility to your outfit but also gives you the opportunity to create different looks with your midi wrap dress. Adding a jacket or blazer over your dress can instantly elevate it and make it more suitable for formal or professional occasions. Opt for a tailored blazer or a structured jacket to maintain the shape of the dress and create a polished silhouette.
For a more casual and cozy look, you can pair your midi wrap dress with a cardigan or a sweater. This adds a touch of comfort and warmth, making it perfect for those chilly autumn or winter days. You can choose a cardigan or sweater in a contrasting color to create visual interest or opt for a more monochromatic look by sticking to similar shades as your dress.
Another way to layer with a midi wrap dress is by adding a scarf. A scarf not only provides an extra layer of warmth but also adds dimension and style to your outfit. You can experiment with different tying techniques and patterns to create a unique look. For example, a chunky knit scarf can add texture and coziness to a simple wrap dress, while a lightweight silk scarf can add elegance and sophistication to a formal ensemble.
Creating Different Looks with a Midi Wrap Dress
One of the best things about a midi wrap dress is its versatility. With a few styling tweaks, you can easily transform your dress into different looks for various occasions. To create a casual and relaxed look, pair your midi wrap dress with flat sandals or sneakers for a laid-back vibe. You can also add a denim jacket or a straw hat for a touch of effortless cool. This ensemble is perfect for weekend brunches, shopping trips, or picnics in the park.
If you need to dress up your midi wrap dress for the office or a formal event, there are plenty of styling options available. First, opt for a midi wrap dress in a solid color or a subtle print to maintain a professional look. Pair it with classic pumps or block heels for a sophisticated touch. Adding a tailored blazer or a structured jacket instantly elevates the dress and gives it a more polished appearance. Complete the look with minimal accessories and a sleek hairstyle.
For a dressy and sophisticated look, choose a midi wrap dress in a luxurious fabric like velvet or silk. Opt for deep jewel tones or metallic shades to add glamour and elegance. Pair it with strappy heels or statement boots to create a dramatic effect. Adding some sparkly or statement jewelry can further enhance the dressy vibe. This look is perfect for cocktail parties, evening events, or formal dinners.
This image is property of styleworthyblog.com.
Experimenting with Styling Techniques
When it comes to styling a midi wrap dress, don't be afraid to experiment and try out different techniques. The way you tie the wrap can completely change the look of the dress. For example, you can tie it on the side for a more asymmetrical and modern look, or tie it in the front for a classic and feminine style. You can also experiment with layering different wraps or adding an additional belt for a unique and personalized touch.
Adding a pop of color with a contrasting accessory is another fun way to play with your midi wrap dress. For instance, if you're wearing a neutral-colored wrap dress, you can add a vibrant and colorful belt or statement shoes to create a striking contrast. This not only adds visual interest to your outfit but also allows you to incorporate your personal style and preferences.
Mixing patterns and textures is another styling technique that can create a bold and unique look with a midi wrap dress. For example, you can pair a floral-printed wrap dress with a leopard-printed belt or add a textured jacket or cardigan to a solid-colored dress. This combination adds depth and visual interest to your outfit, making it stand out from the crowd. Just make sure to strike a balance and not overwhelm the overall look with too many patterns or textures.
Choosing the Right Undergarments
To ensure you look and feel your best in a midi wrap dress, it's essential to choose the right undergarments. Finding the right bra is crucial as it can affect the overall fit and appearance of the dress. If your dress allows for it, opt for a bra that provides support and enhances your natural shape. Strapless or convertible bras can be a great option if you don't want your bra straps to be visible under the dress.
Visible panty lines can be a fashion faux pas, especially when wearing a fitted midi wrap dress. To avoid this, opt for seamless underwear or thongs that are designed to be invisible under clothing. Seamless or laser-cut panties create a smooth silhouette and prevent any unwanted lines from showing through. Additionally, you can also consider wearing shapewear for a more streamlined and polished look.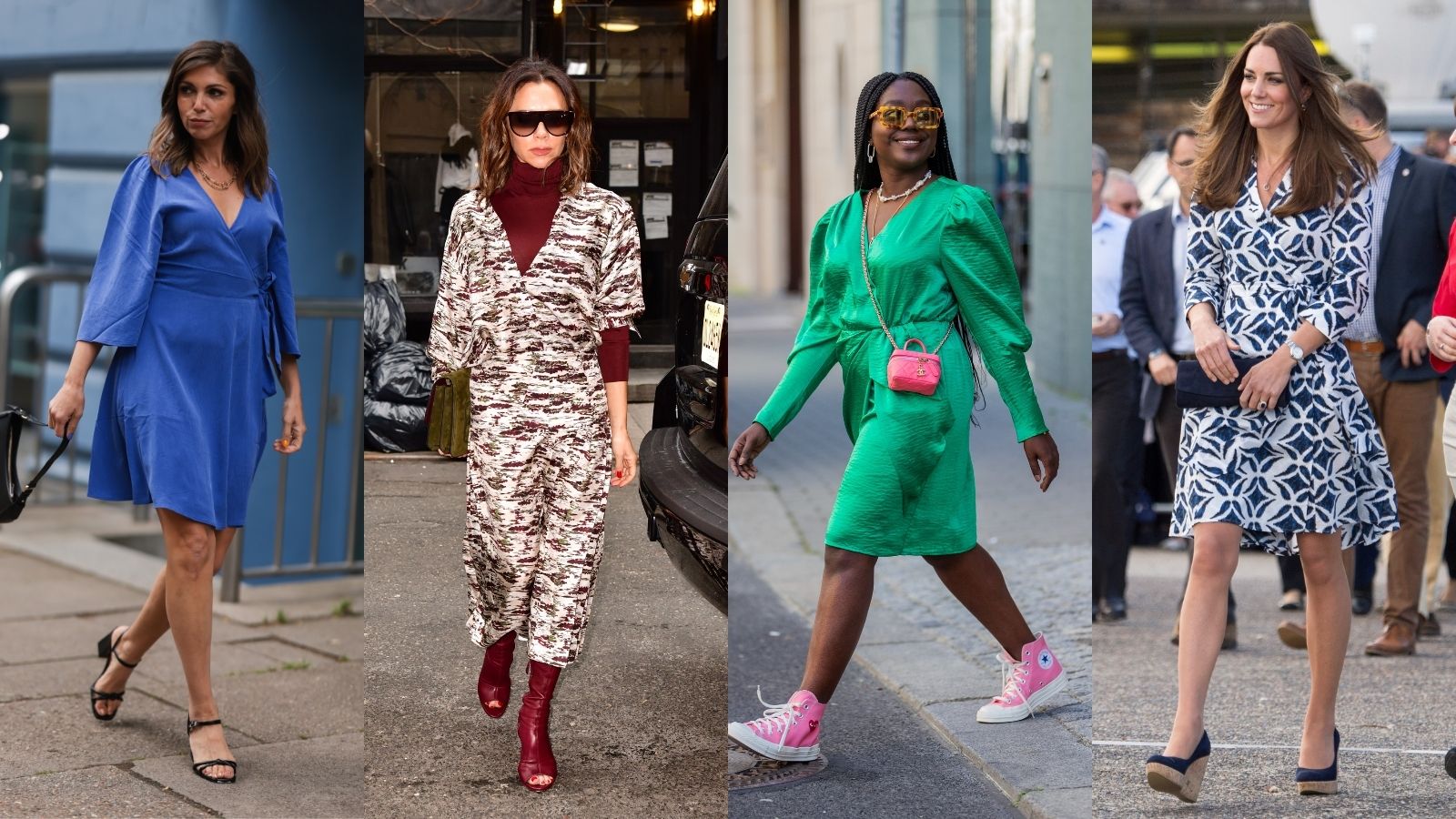 This image is property of cdn.mos.cms.futurecdn.net.
Styling Tips for Different Seasons
Midi wrap dresses can be styled for all seasons, with a few adjustments to suit the weather and season-specific trends. In the summertime, opt for lightweight and breathable fabrics like linen or cotton to keep you cool and comfortable. Midi wrap dresses in vibrant prints or pastel shades are perfect for embracing the spirit of summer. Pair your dress with sandals or wedges to complete a fresh and breezy look.
As fall and winter roll around, you can still rock your midi wrap dress by layering it strategically. Adding tights or leggings underneath your dress provides extra warmth while allowing you to wear your favorite dresses throughout the year. Throw on a cozy cardigan or a cropped sweater for added warmth and style. Don't forget to accessorize with a stylish coat or jacket to complete your fall or winter ensemble.
Springtime is the perfect season to embrace florals, bright colors, and lightweight fabrics. Midi wrap dresses adorned with floral patterns perfectly capture the essence of spring. Pair your dress with cute sandals or ankle boots and add a light layer, such as a denim jacket or a lightweight trench coat, for those occasionally chilly spring days. Spring is all about embracing freshness and new beginnings, so have fun with your outfit choices and experiment with different prints and colors.
Using Midi Wrap Dresses for Different Occasions
Midi wrap dresses are incredibly versatile and can be worn for various occasions. To dress appropriately as a wedding guest, opt for a midi wrap dress in a sophisticated and elegant print. Consider the dress code and the venue of the wedding while making your selection. You can pair your dress with heels and delicate jewelry to create a refined and wedding-appropriate look.
For daytime events like brunches, showers, or luncheons, a midi wrap dress is a perfect choice. Opt for a dress in a fun and vibrant print or a cheerful solid color. Pair it with comfortable yet stylish shoes like sandals or ballet flats. Adding a floppy hat or a statement bag can further enhance your daytime ensemble and make it more fashion-forward.
When it comes to date night looks, you can never go wrong with a midi wrap dress. It's flattering, feminine, and exudes a romantic vibe. Choose a dress in a sultry shade like deep red or black and pair it with strappy heels or ankle boots, depending on the occasion. Keep your makeup soft and romantic, and don't forget to add a touch of your favorite perfume to complete the perfect date night look.
This image is property of i.ytimg.com.
Travel-Friendly Styling with Midi Wrap Dresses
Midi wrap dresses are the perfect travel companion as they are versatile and easy to style. When packing for a weekend getaway, consider bringing a midi wrap dress that can be dressed up or down depending on the occasion. Opt for a fabric that doesn't wrinkle easily to avoid spending precious vacation time ironing. Choose neutral or solid colors that can be easily mixed and matched with different accessories.
For those jet-setting to different climates, midi wrap dresses offer versatility. In warmer destinations, opt for lightweight fabrics like chiffon or linen that allow for breathability. Pair your dress with sandals or wedges to keep your feet comfortable in the heat. In colder climates, layer your midi wrap dress with tights, boots, and a warm coat for added warmth and comfort.
Effortless style on the go is easily achieved with a midi wrap dress. The wrap style allows for easy dressing and adjusting, making it perfect for those busy travel days. Roll up your dress and pack it in your suitcase without worrying about wrinkles or creases. When you arrive at your destination, simply unpack and you're ready to go.
Caring for Your Midi Wrap Dress
To ensure your midi wrap dress stays in top shape and lasts for multiple seasons, it's essential to take proper care of it. When it comes to washing, always check the care instructions on the label before throwing it in the machine. Some fabrics may require delicate cycle or handwashing to maintain their quality. Always use cold water and a gentle detergent to prevent color fading.
Drying your midi wrap dress properly is equally important. Avoid wringing or twisting the dress, as it can stretch or damage the fabric. Instead, gently squeeze out the excess water and lay it flat on a clean towel to air dry. Avoid direct sunlight as it can fade the colors. If you're in a hurry, you can use a fabric steamer to remove any wrinkles before wearing.
Storing your midi wrap dress properly is essential to maintain its shape and quality. Hang the dress on a padded hanger to avoid stretching the shoulders or causing any creases. If you're folding the dress, make sure it is completely dry to prevent any moisture or mildew buildup. Store it in a cool and dry place away from direct sunlight or any potential sources of damage.
If you notice any wrinkles or creases on your midi wrap dress, don't panic. There are various ways to remove them without causing any damage. You can use a steamer or a fabric spritzer to gently relax the fabric and remove wrinkles. Alternatively, you can also place a damp cloth over the dress and lightly press it with an iron on the lowest setting. Just make sure to test a small, inconspicuous area first to avoid any damage.
In conclusion, a midi wrap dress is a versatile and timeless wardrobe staple that can be styled in countless ways. From choosing the right dress for your body type and occasion to accessorizing and layering, there are numerous possibilities to create your desired look. By experimenting with different styling techniques, colors, and accessories, you can make your midi wrap dress a true reflection of your personal style. Remember to take proper care of your dress to ensure it lasts for years to come and always make you feel like the confident and stylish individual you are.
This image is property of i.ytimg.com.